W16395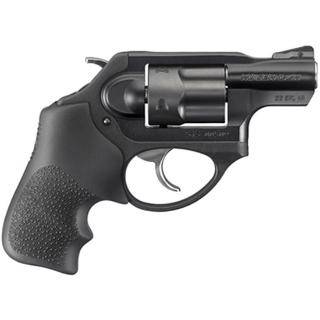 RUGER LCRX 38SPECIAL 1.875" BARREL W/HAMMER
NOTE: We do not ship to California.
The Ruger LCRX comes in 38 Special with a 1.875" barrel and an exposed hammer to permit single or double action firing. The finish black in color, featuring a high-strength stainless steel cylinder and barrel.
Additional features are listed below:
• Patent pending polymer fire control housing holds all the fire control components in their proper dimensional relationships, reduces weight significantly, and helps reduce recoil.

• Patented friction reducing cam is the next generation design in fire control systems with an optimized cam that results in a smooth, non-stacking trigger pull.

• High-Strength stainless steel cylinder is extensively fluted (reducing weight) and features an Ionbond Diamondblack™ finish for excellent durability.
• Grip Peg allows a variety of grip styles to be installed, leaving ample room for recoil cushioning. Standard model has a Hogue® Tamer™ grip, which is highly effective at reducing felt recoil
• Also includes soft case.
FACTORY PART #5430.