W0429600900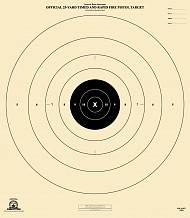 APRIL 29TH, 2019 6-9PM INTRODUCTION TO HANDGUNS
NOTE: We do not ship to California.
The Intro to Firearms class is geared around the novice handgun owner that needs an orientation into safe firearms handling as well as exposure to the five fundamentals of handgun shooting. During the class, participants will be explained the difference between centerfire, rimfire, and shotshell firearms as well as the concepts of sight picture & alignment, trigger squeeze, breath control, arc of movement, and follow-through.
Ammunition selection, handgun cleaning, basic holster function and selection, safe firearm storage, as well as range safety will also be addressed. The participant will spend approximately ½ hour on the range doing live fire only after having worked on some dry-fire drills re-enforcing the shooting fundamentals as prescribed by the NRA.
All instruction will be taught by qualified NRA instructors or experienced handgun shooters, supported by prior service military and law enforcement personnel with many years of experience.
Participants are encouraged to bring their own firearms and one 50rd box of range-type ammo. If the participant does not own a firearm, he or she may use (at no cost) one of the store rental firearms but will be required to purchase a 50rd box of ammo for that firearm here at the store.
Hearing and eye protection are required anytime participating in a firearms activity during live fire. You may provide your own or rent these items for $0.75 per item at the store upon arrival.
A maximum of ten (10) participants will be permitted in any session to ensure a positive coaching relationship and ensure everyone's safety.
*All participants must be able to legally possess a firearm.
RESERVATIONS: Must be paid in advance to reserve a seat at least 1Day before the class date. (Cap of 10 participants per class)
NO CANCELLATIONS/REFUNDS LESS THAN 48HRS PRIOR TO CLASS DATE.
Class Registrant Information
of
Please supply the information required from each class attendant.
---