W4868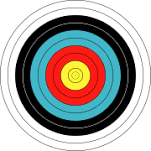 HOME SCHOOL ARCHERY CAMP
NOTE: We do not ship to California.
Home School Archery Camp is designed with the archery novice in mind. This class is for the person that has never had an opportunity to experience the challenge and fun that shooting a bow can provide. Participants will learn archery fundamentals in a safe environment, while having fun and gaining experience in a sport that transcends all age groups, social & economical, and gender lines.
USA ARCHERY Instructor-Led Training
Each time slot is limited to 4 students
$85 per student
Ages 6 and Up
Pre-registration Required – Online Preferred
Class Length – 1 Hour Per Session
Free use of Academy Equipment; Students can use their own equipment once it has been safety checked by staff
Adult Signed Waivers Required and Completed prior to the class start time. Please print out form here and bring in completed prior to the start of the session.
Class Registrant Information
of
Please supply the information required from each class attendant.
---