W25496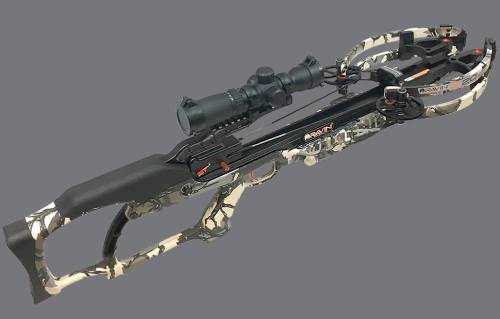 RAVIN R20 PKG CROSSBOW - GUNMETAL GRAY (2019 MODEL) | BUY ONLINE
NOTE: We do not ship to California.
NOW IN STOCK!!
RAVIN R20 (2019 MODEL) CROSSBOW FEATURES A SPEED OF 430FPS. The width axle-to-axle unloaded is 10.5", and loaded is 6". The overall length is 34.5" long and has a physical weight of 6.9 pounds before adding the 100yard illuminated scope, 3 bolt quiver with bracket, and draw system handle containing its' own clutch. The package also includes six (6) 20" match grade 400Grain bolts with screw-in 100gr field points.
The Frictionless Flight System allows the bolt and string to free float above the rail, eliminating the friction that causes wear to the string. This eliminates the need to lube the rail - you still have to wax the string though! This FFS permits an extended string and cable life as well as providing increased accuracy.

The Versa-Draw Cocking System works in conjunction with the Trac-Trigger Firing System and this ultra compact fully integrated cocking mechanism is built in to the stock. It is fully ambidextrous and allows for both COCKING and UN-COCKING the crossbow - a feature that no other crossbow of similar design provides!


PART #R021
XBOW SHOWN IN PREDATOR CAMO.
This package comes fully assembled and pre-tuned, including:
6 - Ravin Branded Arrows and Ravin Nocks
1 - Removable Cocking Handle
1 - Quiver/Mounting Bracket
6 - 100 Grain Practice Field Points
100 Yard Illuminated Scope
Built-In Cocking Mechanism
Anti-Dry Fire/Auto Safety
Built-in Sling Mounts