W25541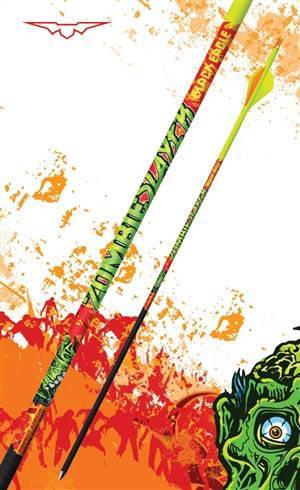 BLACK EAGLE ZOMBIE SLAYER ARROWS, .003, 350SPINE - 6PACK
NOTE: We do not ship to California.
Black Eagle Zombie Slayer arrows are made for accuracy and penetration and are manufactured with the tightest +/- .003" straightness tolerances to ensure you never miss that critical head shot. The accuracy of these arrows make them some of the best arrows for hunting you'll find, but that's not the only reason they are a must have in your arsenal.
These arrows come in a 6pack box with inserts loose so that you can cut them to the length you need for your draw length.
Straightness tolerance is .003 and the spine is 350 for those higher poundage, moderate draw length archers.
The unmatched durability of the Zombie arrows is guaranteed, as we test our shafts by shooting through ¾" pressure treated plywood and other materials. The durability allows you to reuse these arrows over and over again, which contributes to the effectiveness of your bow as an ideal survivor.