W26072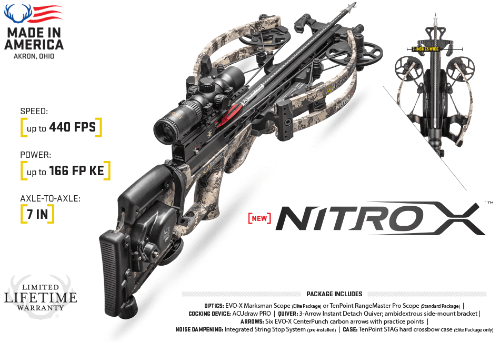 TENPOINT NITRO X W/ACUDRAW PRO, RANGEMASTER SCOPE PKG
NOTE: We do not ship to California.
FREE SHIPPING!!
The Tenpoint NITRO X features new SLING-SHOT and Vector Quad cable technologies. This bow measures an ultra-narrow 7 inches wide and full draw and delivers devastating speed up to 440 feet per second (depending on which bolt technology is used).
Standard Package Includes:
Optics: TenPoint RangeMaster Pro Scope mounted on a machined aluminum 7/8-inch Fixed Dovetail Mount
Cocking Device: ACUdraw PRO cocking device
Quiver: 3-Arrow Instant Detach Quiver; ambidextrous side-mount quiver bracket
Arrows:

Six Evo-X CenterPunch premium carbon arrows with 100-grain practice points
Noise Dampening:

Integrated String Stop System
FACTORY PART #CB18005-3813.