W26073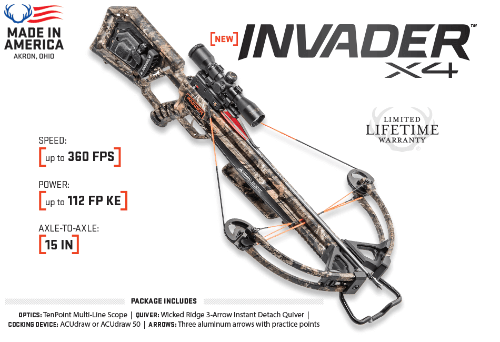 WICKED RIDGE INVADER X4 W/ACUDRAW50, MULTILINE SCOPE AND PKG
NOTE: We do not ship to California.
FREE SHIPPING!!
The new Wicked Ridge INVADER X4 is powered by new, speed-inspired 4S cams and shoots up to a blazing 360 feet-per-second, measuring an incredibly narrow 15 inches wide. It is built for pin-point accuracy, and is one of the lightest crossbows on the market at only 6.3 pounds.
Package Includes:
Optics:

TenPoint Multi-Line™ Scope
Cocking Device:

ACUdraw or ACUdraw 50
Quiver:

Wicked Ridge Instant-Detach 3-Arrow Quiver
Arrows:

Three aluminum arrows with practice points
FACTORY PART #WR18005-5531.