W17265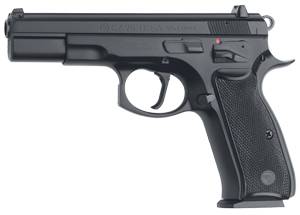 CZ 75B 9MM 4.6" SINGLE ACTION PISTOL W/FIXED SIGHTS
NOTE: We do not ship to California.
CZ 75B 9MM 4.6" 16rounds Single Action Pistol w/amibidextrous manual safety, safety stop on the hammer, and a firing pin block safety. The sights are fixed, and the frame includes an extended beavertail w/plastic grips.
FACTORY PART #91150.
CHECK WITH YOUR LOCAL ORDINANCES AND LAWS TO VERIFY THAT YOU CAN LEGALLY POSSESS THIS FIREARM!!