559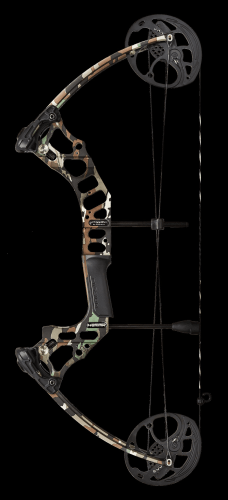 MISSION HAMMR - NEW FROM MISSION ARCHERY
NOTE: We do not ship to California.
The all-new Hammr from Mission is the best option for new or growing archers! The Fast-Fit cam technology offers half-inch draw lengths (an improvement over the Craze models) for a more precision oriented adjustability and is quicker and easier to adjust then before. The Hammr adjusts from 17-29 inches to fit most archers. Draw weight is relevant to the draw length options and will offer a range of low and high poundage options at every level for every archer. With the new Dead-End string stop, an improved back wall, and a newly designed grip, this bow is certainly going to make an impact in the youth archery world! This bow features lightweight mass at 3.4 pounds and a small, compact 28" axle-to-axle standard.
Brace height is 6 1/4" and an IBO speed of 300fps @ 29" and 70#.
COME TEST DRIVE ONE TODAY - AVAILABLE FOR PURCHASE OR ORDERING YOUR FAVORITE SCHEME!
The HAMMR comes in Realtree Original, Black, as well as all the "Splash" colors!
As with Mathews Archery, Mission Archery bows can only be found and sold in your local proshop - warrantees are voided if purchased online or through any form of website or auction platform!