W112022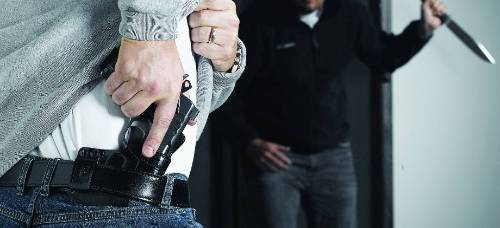 NOVEMBER 20TH, 2019 5-9PM CCW CLASS
NOTE: We do not ship to California.
CLASS DATE: NOVEMBER 20, 2019
FEE DUE DATE: NOVEMBER 19, 2019
Wisconsin CCW Course (4hrs) is held in the Shooters Training Center classroom here at The Shooters' Sports Center. This course is being taught by one or more of the training staff here and is based on the Wisconsin DOJ recommended program. It has been tweaked to allow for some discussion on critical thinking decision making as well as protection in the home issues. There is an introduction to alternative options such as Tasers and Pepper spray.
This class may only take 2-2.5hrs depending on how many students are present and the volume of questions and discussions that occur.
Upon completion, a successful participant will be able to submit their Wisconsin CCW permit application.
According to the USACARRY.COM website, Wisconsin permits are good in the following states: Alabama, Alaska, Arizona, Arkansas, Colorado, Georgia, Idaho, Indiana, Iowa, Kansas, Kentucky, Louisiana, Michigan, Mississippi, Missouri, Montana, Nebraska, Nevada, North Carolina, North Dakota, Ohio, Oklahoma, Pennsylvania, South Dakota, Tennessee, Utah, Vermont, Virginia, and Wyoming.
The staff involved in teaching this course (as well as our Intro to Handgun Shooting course) has a collective set of experiences as follows: 56 years of law enforcement experience, 33 years of military experience, as well as over 7 years of NRA instructor experience.
COST: $65 per person
HOURS: 5-9PM (May go longer dependent on specific questions asked by participants)
RESERVATIONS: Must be paid in advance to reserve a seat at least two days before the class date. (Cap of 24 participants per class)
Class Registrant Information
of
Please supply the information required from each class attendant.
---