667WEBSITE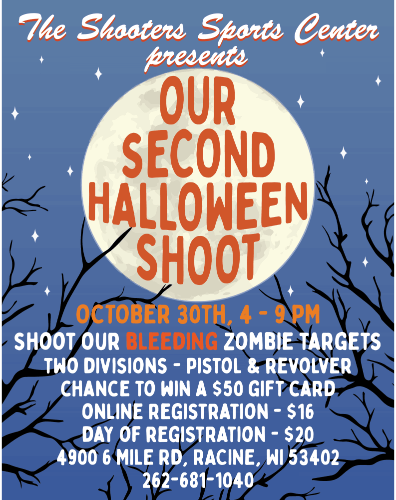 HALLOWEEN SHOOT PREREGISTRATION
NOTE: We do not ship to California.
THE EVENT WILL BE ON OCTOBER 30TH, FROM 4 to 9PM!
Thank you for your interest in our shoot. Each person will load one magazine with 10 rounds and a second with 5 rounds. A magazine change will be required during the course.
The course of fire is as follows:
The course of fire will consist of a total of 30 rounds in two series of 15
The gun will be placed on a table unloaded with the slide or cylinder open and magazine(s) or speed loader(s) next to the gun
At a signal from the safety officer, you will pick up your gun, load and fire the first round of 10.
When your first magazine is empty, load the second magazine and shoot at the remaining five targets
Repeat for the second round
The shooter will be required to remain in the shooting box marked on the floor. Stepping out of the box is a 1 second penalty
Violations of range safety are an immediate disqualification
Loading and firing is done on command from the safety officer. Revolvers may reload as required during each round
Target range will be 7 yards
The targets are as follows:
The left and right targets are a cardboard Zombie containing 6 clay pigeons each. You are allowed six shots at each target to break the birds
The center target is a bleeding Zombie Mannequin requiring 2 shots
The final target is a bleeding Zombie rabbit set behind the other 3 requiring one shot to stop the clock
All misses count as a ½ second penalty
Firing sequence is left to right with the last shot being on the rabbit
There are 2 divisions consisting of pistol and revolver. The winner of each division will receive a $50 gift card from The Shooters Sports Center.
All standard range safety rules apply!
Class Registrant Information
of
Please supply the information required from each class attendant.
---