NEXUS2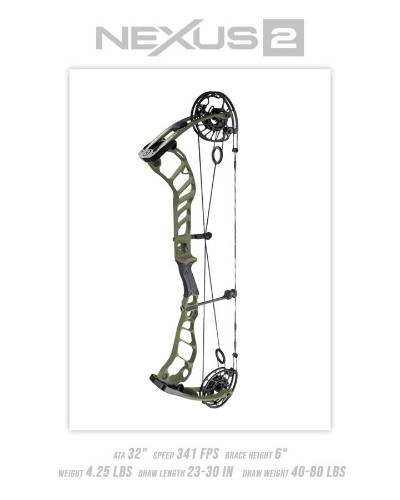 PRIME NEXUS 2 COMPOUND BOW - ALL VARIATIONS
NOTE: We do not ship to California.
STOP IN AND TEST SHOOT AND/OR ORDER YOURS NOW!! STOCKING INVENTORY ALREADY ON ITS WAY!!
Coming in at 32" axle-to-axle and the 6" brace height to contribute to its' comfortable, yet efficient speed of 341fps. The features introduced in 2020 including the complete draw length system have now been supplemented by the new NANOGRIP - the NASA developed Aerogel Technology to provide a barrier against extreme cold between the cold aluminum riser and the hands of the archer without the need for bulky gloves or tapings and wraps.
Brace Height: 6"
Axle to Axle: 32"
Mass Weight: 4.25#
Letoff Options: 85% standard
Draw Weights: 40, 50, 60, 65, 70, 80#
Draw Lengths (Using SW Mods): 23-30"
LIKE ALL PRIME BOWS, THIS BOW IS A PRO SHOP BOW ONLY AND CAN ONLY BE SOLD IN THE STORE - NO ONLINE SALES PERMITTED AS IT VOIDS THE FACTORY WARRANTY.
PICTURED IN Army Green/Blk, RH.