W14092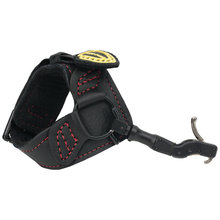 TRUFIRE HARDCORE BUCKLE FOLDBACK ARCHERY RELEASE W/BLK STRAP
NOTE: We do not ship to California.
The Trufire HARDCORE BUCKLE FOLDBACK release with BLACK wrist strap uses a buckle system for attachment. It features a 5/8" length of pull adjustability on the release head as well as a swept-back trigger system. Guaranteed to not slip off of string loops. There is a set screw to permit fully adjustable trigger travel settings.
FACTORY PART #HDBBLKF.