W23231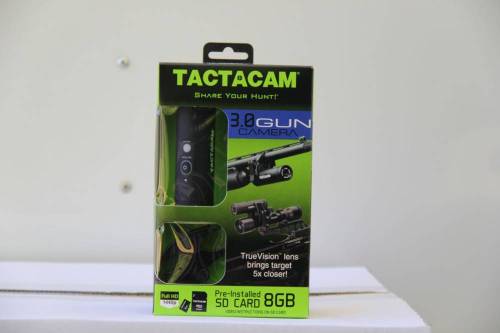 TACTACAM 3.0 GUN PKG
NOTE: We do not ship to California.
ON SALE WHILE THEY LAST!!
The Tactacam 3.0 Gun Pkg comes with great video (up to 1080P) and excellent audio. Has one-touch Power on Auto Record with Vibration indication. Utilizes an Ultra Sharp Lens optimized for Bow, Crossbow, and Gun - No Fish-Eye lens here! 50Cal tested and approved and comes with a 1yr warranty. Auto Adjusts for Low Light conditions and Auto Zooms up to 5 power. Can record in slow motion and battery life on a single charge is up to 2.5hrs of video performance. The Tactacam is waterproof and requires no extra casing to protect it. Can view directly on any device by use of HDMI and TV hookups. Comes with an 8GB card. Uses up to a 64G SD Card and is compatible with a Custom Gun/Scope Mount, or mount to your bow with the available stabilizer accessory mount.