Wisconsin Archery Outfitters Help You Be the Best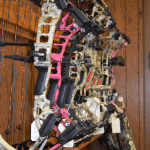 Shooters' Sports Center is the #1 sport shooting destination in Southeastern Wisconsin. We have everything the archery enthusiast could dream of – top-of-the-line bows and accessories, a 20-yard indoor archery range, and of course, expert advice from our knowledgeable staff.
New to Archery? No problem!
Our expert archery outfitters are available to not only help you select the perfect bow, but also how to shoot with the proper technique. We even put together some straightforward guides to make the online buying process less intimidating:
Keep Updated on the Latest Bow Models and Accessories Right Here
Shooters' Sports Center will keep you informed about the latest bows and archery accessories on the market. Check back regularly so you don't miss out! Stop by our archery shop today to test out the newest compound bows, and to learn more about other equipment we have available.
View our definitive list of the Top 10 Compound Bows of 2021 here!
If you don't see what you're looking for on our website, we have a huge in-store inventory. Don't hesitate to ask! If we don't have a specific model you're looking for, we can special order most items for you.
Get Great Deals on Compound Bow Purchases
Shooters' Sports Center offers great deals on compound bow purchases. When you buy a compound bow from us, you'll get:
1 free clean/grease workup on your compound bow after your first hunt
5 free hours of time on our indoor 20-yard archery range
2 free days of range time on our seasonal outdoor 60 yard archery range