Membership Rates and Benefits
Individual Membership
ONE YEAR - $350
Renewals - $300
Shooting Time: Unlimited
Merchandise Discount: 5% off
Free Guest Shooting Passes: 4 ($64 Value)
Gift Card Value: $15
Amount of Shirts: 1 ($40)
Free Gun Rentals (with purchase of Store Ammo)
THREE YEAR - $670
Renewals - $620
Shooting Time: Unlimited
Merchandise Discount: 5% off
Free Guest Shooting Passes: 12 ($192 Value)
Gift Card Value: $40
Amount of Shirts: 1 ($40)
Free Gun Rentals (with purchase of Store Ammo)
INDIVIDUAL 1 YEAR WEEKDAY ONLY - $225 (New Option)
Renewals - $225
Shooting Time: Weekday Unlimited
Merchandise Discount: 5% off
Free Guest Shooting Passes: 4 ($64 Value)
Gift Card Value: $15
Free Gun Rentals (with purchase of Store Ammo) During Weekdays
Family Membership
ONE YEAR - $575
Renewals - $475
Shooting Time: Unlimited
Merchandise Discount: 5% off
Free Guest Shooting Passes: 6 ($96 Value)
Gift Card Value: $30
Amount of Shirts: 2 ($80)
Free Gun Rentals (with purchase of Store Ammo)
THREE YEAR - $1000
Renewals - $900
Shooting Time: Unlimited
Merchandise Discount: 5% off
Free Guest Shooting Passes: 18 ($288 Value)
Gift Card Value: $60
Amount of Shirts: 2 ($80)
Free Gun Rentals (with purchase of Store Ammo)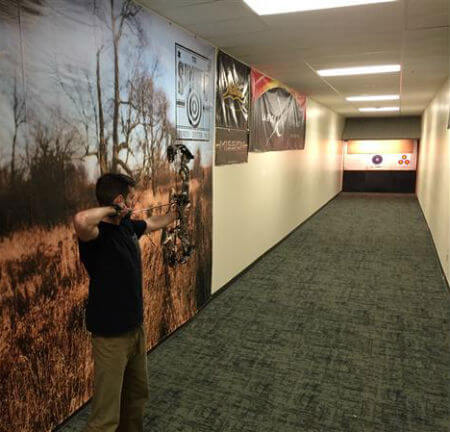 Membership Benefits
A membership with Shooters Sports Center includes a variety of benefits, including:
Unlimited Shooting Time: Don't worry about paying hourly for your shooting time anymore.
Reserve range time: Members are the only ones allowed to reserve range time (up to two weeks in advance). Unless customers are waiting for lanes, in which case we ask members limit their shooting to two consecutive hours, you may keep shooting as long as you want!
Special Member Discounts: Receive a 5% discount on all non-Sale items and merchandise we have in stock. When you become a member, you also receive a Gift Card for use on future visits (value depends on membership plan – see diagram below).
Guest Passes: You could be the inside connection for your friends who want to shoot. With your membership, you receive guest passes each good for one hour of free shooting (amount of passes vary based on membership plan – see diagram below).
First to Know: Members receive notifications by email 24 hours in advance regarding Shooters specials, events, and commodity product availability.
Free Gun Rentals: Be able to use our large selection of gun rentals with no cost other than the purchase of our Store Ammo (All high quality factory ammo - no reloads)
Contact the Racine archery and gun range at Shooters Sports Center and sign up for membership today.