We allow most handguns, shotguns and .22 caliber rifles as well as rifles shooting handgun caliber rounds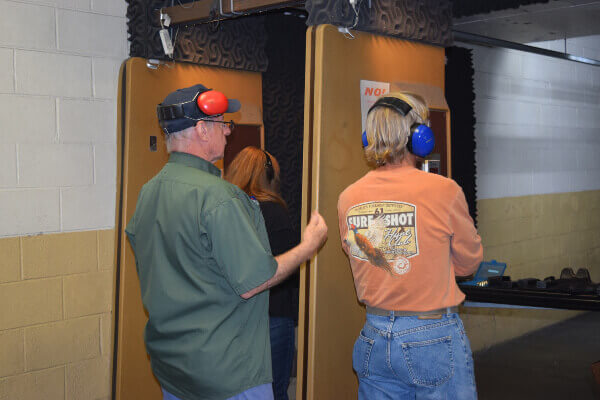 Indoor Range Rules:
ALWAYS treat every gun as if it were loaded
ALWAYS keep the gun pointed down range
ALWAYS keep your finger off the trigger until ready to fire
ALWAYS keep the gun unloaded until ready to use
1 NO ONE is allowed past the firing line except staff.
2 NO ONE is allowed on the range under the influence of alcohol or other controlled substances.
3 EYE AND EAR PROTECTION must be worn at all times on the range.
4 NO FOOD OR DRINKS allowed in the range area.
5 Three shooters are allowed per lane.
6 All ammunition is subject to approval by the staff.
7 Drawing from a holster is not permitted unless specifically approved.
8 All long guns must be inspected by staff before going to the range.
9 No high powered rifles allowed (at or over 2000 fps or 2000 ft-lbs).
10 If a misfire or other malfunction occurs, leave the firearm at the firing line pointed down range and obtain assistance from a staff member.
11 DO NOT leave the firing line with a loaded or jammed firearm.
-Should any shooter notice a range participant acting in a potentially unsafe manner, notify the staff immediately.
-No handling of loaded firearms inside the store
-No magazine loading in the store, classroom or lounge areas
-If you are not familiar with firearms ask one of the sales professionals for assistance
-Any unsafe actions are cause for immediate removal from the premises.
We DO NOT allow:
-High Power Rifles
-Wildcat Calibers
-Armor-piercing
-Steel Shot
-Black Powder
-Any ammunition rated faster than 2000 FPS
Shooters Sports Center is located near Racine, South Milwaukee, Oak Creek, Caledonia, Wind Point, North Bay, Mt Pleasant, and just north of the Illinois-Wisconsin border for a convenient one-stop-shooters-shop for Illinois natives!
Enough waiting around
get directions to Shooters indoor range, and get shooting now!

Directions
If you have a question about if your firearm is permitted at our range, contact our Racine gun shop today.