Shooters' Sports Center is Wisconsin's home for Smith & Wesson shields, handguns, rifles, revolvers, magazines, gun cases, and other accessories. Protect yourself with a gun that has stood the test of time. Test your weapon before you buy at our state-of-the-art firing range in Racine.
Wisconsin Smith & Wesson Dealer
Shooter's Sports Center Inc. of Racine WI carries the best names in firearms. Whether you're looking for high quality firearm accessories or high performance Smith & Wesson rifles, you can find them online or at our Racine gun range.
Smith & Wesson has been a trusted rifle brand since 1852; becoming famous when the Smith & Wesson Model 1 stood as the preferred gun of countless soldiers on both sides of the Mason Dixon line during the Civil War. The premier legacy has followed ever since.
The Best of Smith & Wesson
With a Smith & Wesson handgun at your side, you'll never go anywhere alone. This leading firearms brand dealer has been crafting innovative guns for sport, recreation, protection and personal use for over 164 years. Smith & Wesson pistols deliver high quality performance for just about anyone, and Smith & Wesson rifles offer reliable power. Shop Shooters for: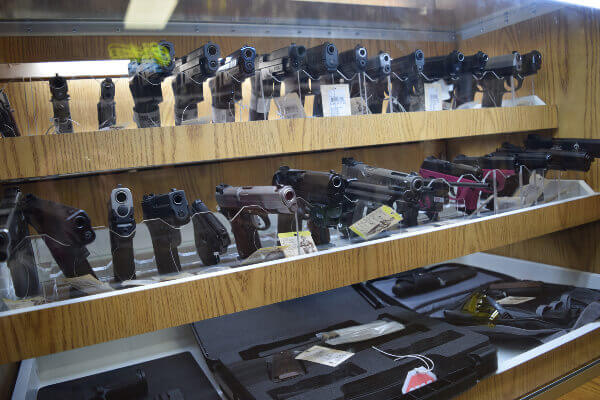 Smith & Wesson M&P Shields: These strike-fire, semi-automatic pistols are developed for personal, sporting, or professional use, with state-of-the-art characteristics that deliver efficiency and speed.
Smith & Wesson Revolvers: Available in classic, performance, or M&P series; these revolvers are made with durable materials that give more power to the user—all while looking incredible. The compact revolvers are made for easy, reliable use while heavy, long barreled models are made for more hunting power while maintaining accuracy.
Smith & Wesson Rifles: Performance and sport models available with customizable components that allow the rifle owner more power, efficiency, and accuracy at affordable rates. The new M&P 15 sport models are available through Shooters': order your customized, lightweight rifle today.
150+ Years of Excellence
Now, more than a century and a half later, Smith & Wesson is one of Americas leading manufacturers of high quality handguns and rifles. Smith & Wesson revolvers have been trusted since the Civil War, popular as a last ditch weapon or a trusty sidearm during a saloon brawl.
Today, Smith & Wesson hand guns are standard issue for many law enforcement offices and trusted by members of the US military. With a collection of reliable hand guns designed specifically for concealed carry, Smith & Wesson has firearms for every need. Smith & Wesson also manufactures a line of durable sporting and performance rifles available in a number of calibers. Smith & Wesson manufactures handguns for polices officers, soldiers, professional marksmen, and everyday Americans.
Shooters' of Southeast WI
Shooters' Sports Center Inc. has served as Wisconsin's leading provider of rifles, shotguns, archery equipment, and accessories for over 3 decades. The firearm and archery experts on staff have the experience you want when it comes to deciding which brand and model to trust to fulfill your needs. Visit our Racine gun range to browse our extensive selection of premier brands, including Smith & Wesson products, consult with our staff experts for more information, take concealed carry classes, practice at our indoor shooting range, and more.
Contact Shooters Sports Center for more information on Smith & Wesson products or to purchase your firearm online today.