Class Registrant Information
of
Please supply the information required from each class attendant.
---
Obtain a Wisconsin CCW Permit
Wisconsin Concealed Carry Permit
The Wisconsin Department of Justice requires CCW applicants to participate in an accredited firearms training program. The Shooters Sports Center offers an accredited concealed carry class for Wisconsin residents at least twice a month. The four-hour courses are taught by our professional training staff and is based on the Wisconsin DOJ recommended program.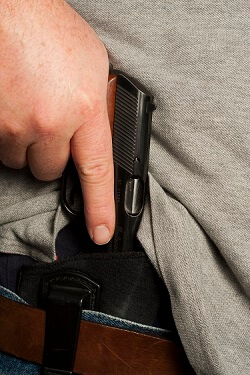 Our CCW class training staff instructs students on
Proper firearm safety
Use of lethal force, carry techniques
Holster styles
De-escalation, critical thinking
Use of non-lethal alternatives like Pepper Spray or Tasers.
The training staff involved in teaching our CCW course (and our Intro to Handguns Course) has a collective set of experience as follows:
56 years of law enforcement experience
33 years of military experience
7+ years of NRA instructor experience
Upon completion of our concealed carry class, students will receive all documentation required to apply for a CCW permit in Wisconsin.
Summary of Wisconsin CCW Laws
Wisconsin is a

shall-issue state.

Concealed carry weapons (CCW) licenses issued by the Department of Justice (DOJ).
CWLs can only be issued to residents and military personnel stationed in Wisconsin.
Applicants must be 21 or older, have completed a firearms training course and meet other criteria.

More information on CCW training requirements can be found online at the Wisconsin Department of Justice.

With the exception of military personnel that are stationed in Wisconsin, non-residents cannot obtain a license.

Concealed carry

is legal with a Wisconsin Concealed Weapons License (CWL) or a license/permit from a state that Wisconsin honors.
Wisconsin will honor permits from states they have reciprocity agreements with, as well as states that require a background check comparable to the check conducted under Wisconsin law.

According to USACARRY.COM, Wisconsin CCW permits are valid in the following states:

Alabama
Alaska
Arizona
Arkansas
Colorado
Georgia
Idaho
Indiana
Iowa
Kansas
Kentucky
Louisiana
Michigan
Mississippi
Missouri
Montana
Nebraska
Nevada
North Carolina
North Dakota
Ohio
Oklahoma
Pennsylvania
South Dakota
Tennessee
Utah
Vermont
Virginia
Wyoming

Contact The Shooters Sports Center in Racine to sign up for a CCW course.

Shooters of Southeast Wisconsin

For over thirty years, Shooters' Sports Center Inc. has been a leading provider of pistols, rifles, shotguns, archery equipment, and accessories. The firearm experts on staff have the experience you need when it comes to choosing which make and model you can rely on for years to come. Visit our Racine gun range to browse our wide selection of premier brands to find what's right for you. Consult with our staff experts, practice shooting at our indoor range, and more.


Concealed Carry Classes in Racine, WI

If you're a southeastern Wisconsin native, or an Illinois resident looking to come up and take classes to protect your 2nd amendment right, our shooting range and CCW classes facility is the best spot around! We're located in Racine, WI, just south of Milwaukee and north of the Illinois border. Purchase your concealed carry class today, we're only a few minutes drive from the communities of South Milwaukee, Oak Creek, Mt Pleasant, Wind Point, North Bay, Caledonia, Sturtevant, & Elmwood Park.

Enough waiting around

get directions to Shooters CCW training facility to defend yourself now!

Directions

Browse Shooters' entire selection of firearms for sale