Racine Firearms Pro Shop Provides the Heads Up on Top Hunting Gear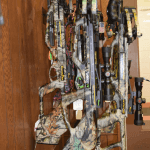 Hunting season will be here before you know it. Are you ready to bag your buck, or are you planning on taking your hunt to a whole other level? Either way, you'll need the best firearms and accessories to maximize your chances of making the kill. Don't let your target get away due to unforeseen issues with your weapons and equipment.
Shooters will help you prevent issues from getting in your way with hunting. Not only will we inform you here on the latest weapons and equipment to use, but we also offer helpful tips and techniques to enhance your success. We also offer at our facility a 25-yard indoor range so you may practice your techniques before employing them in the field. Prepare for tomorrow's hunt today and let Shooters Sports Center help you succeed.
Check back here regularly to find out our latest recommendations.
Then contact the top Wisconsin shooting supplies retailer at Shooters Sports Center and prepare for your next hunting trip today.