W25460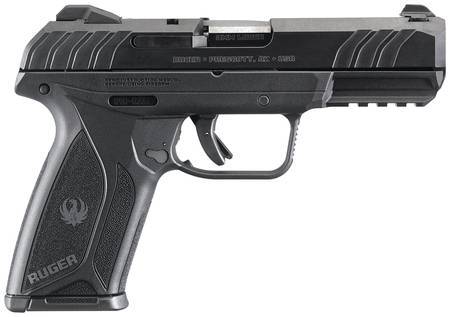 RUGER SECURITY9 9MM 17ROUND 4" BLUE PISTOL | BUY ONLINE
NOTE: We do not ship to California.
FAST MOVERS, GET YOURS NOW!!
RUG Security-9 9mm Luger 4 Inch Barrel Blue Finish Drift Adjustable 3-Dot Sights 15 Round
Security-9
Compact for easy concealment. Rugged construction with blued, through-hardened alloy steel slide and barrel and high-performance, glass-filled nylon grip frame. Precision machined, hard coated aluminum chassis with full-length guide rails. Textured grip frame provides a secure and comfortable grip. Dovetailed, high-visibility sight system with drift adjustable rear sight and fixed front sight. Internal, secure-action hammer provides strong ignition force yet allows for easier slide racking when compared with many striker-fired pistols. Safety features include bladed trigger safety; neutrally balanced sear with significant engagement and strong spring tension; and hammer catch to help prevent the hammer from contacting the firing pin unless the trigger is pulled. Safe, easy takedown with no special tools or trigger pull. Includes: two alloy steel magazines.
FACTORY PART #3810
Shop from the comprehensive list of Ruger products available at The Shooters Sports Center in Racine.