W22727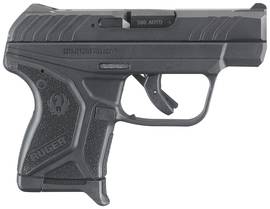 RUGER LCPII 380ACP PISTOL
NOTE: We do not ship to California.
The Ruger LCPII is built on the original design of the LCP but with a better trigger and smoother handling. Still features a small concealable frame yet powerful enough for a personal defense firearm when used with the right ammo. Holds 6rds in the standard magazine. Seven (7) Round mags are available. New squared off trigger guard prevents the original LCP holsters from being used with this firearm. LCP (1st Gen) 6rd mag can be used in this firearm, but it will not lock the slide back on an empty chamber. This firearm is in high demand.
Shooters Sports Center CCW Rating:
Stopping Power: 3

A hefty round makes up for a short barrel

Size: 5

At 5.71" long and 3.71" tall the LCPII fits almost anywhere

Concealability: 5

This handgun is small and can be easily concealed
FACTORY PART #3750.
Shop from the comprehensive list of Ruger products available at The Shooters Sports Center in Racine.