Indoor Gun Range with State-Of-The-Art Design and Features
Hourly Rates for Gun Range:

$18- Non-member

$12- Per Additional Adult

$13- Seniors (Over 62)

$8- Per Child (Under 18)

$15- Law Enforcement (Active or Retired) & Military (Active or Retired)
*Discounts Require Proper ID
Gun Range Hours:

Mon - Fri: 9:00 AM - 9:00 PM

Sat: 9:00 AM - 6:00 PM

Sun: 11:00 AM - 6:00 PM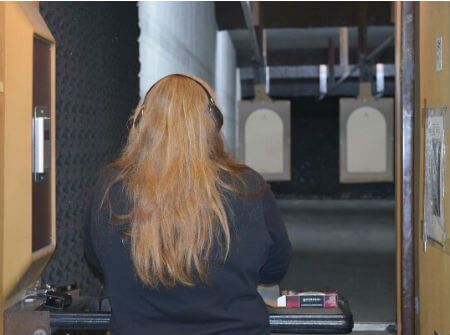 Our indoor shooting range in Racine has 10 lanes that are 25-yards long. All of the lanes are fully equipped with individual controls for both target distance and lighting. We ask that shooters comply with NSSF range rules.
Customers may shoot their own ammunition, brass or steel casings, and may collect their spent shells. We permit shotgun shooting with lead loads, no steel, please.
You can bring your own guns to our shooting range or rent a gun from us. We have a large assortment of demo handguns available. Check out our rental firearm policies for more information on our available weapons and restrictions.
Due to Village Use Permit regulations, we are not allowed to use high-powered rifles that exceed 2000 Feet per Second (FPS) or 2000 Foot Pounds of Muzzle Energy. Please call and ask if you are unsure whether this applies to your firearm of choice.
We're located near the communities of Racine, South Milwaukee, Oak Creek, Caledonia, Mt Pleasant, North Bay, & Wind Point, just north of the Wisconsin-Illinois border. Illinois natives looking for shooting supplies we're you're convenient one-stop-shop!
Enough waiting around
get directions to Shooters indoor range, and get shooting now!

Directions
Buy Your Own Shooting Equipment Online or In-Store
Shooters Sports Center is more than an indoor shooting range. We are also one of the largest outfitters in Wisconsin.
Browse our extensive inventory online:
If you don't see what you're looking for, stop in or contact us online! We're happy to help you find the right equipment for you. We can also special order shooting equipment and accessories if you don't see it in stock. Just ask!