W25591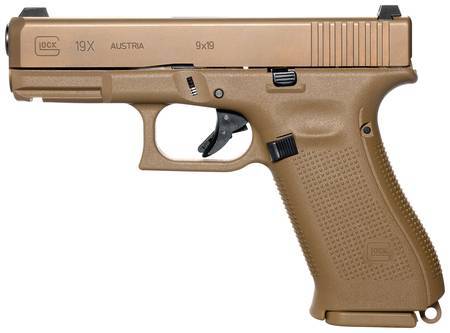 GLOCK 19X 9MM W/NIGHTSITES COYOTE TAN 19RD CAPACITY | ORDER ONLINE
NOTE: We do not ship to California.
STOP IN AND RESERVE YOURS TODAY!!
GLK Glock 19X 9mm 4 Inch Barrel Glock Night Sights Coyote Tan Finish 19 Round
Shop All Our Glock 9mm Handguns
This pistol combines the best features of two popular and trusted platforms, the full-size Glock 17 and the concealable Glock 19; the result being a crossover design with a full-size frame and a compact slide. Features include the first-ever factory colored slide with nPVD coating, the Glock Marksman Barrel with enhanced polygonal rifling and an improved barrel crown, ambidextrous slide stop levers and no finger grooves, plus a lanyard loop for retention. Equipped with Glock night sights and a 5.5 pound trigger pull. Coyote tan frame and slide with black controls. Includes a standard 17-round magazine and two 17+2-round extended magazines along with a coyote-colored pistol case. Made in Austria.
PART #PX1950703
Best Handguns Pistols Concealed Carry Handguns
Shop all Glock handguns and magazines available at the Shooters Sports Center in Racine.