W21164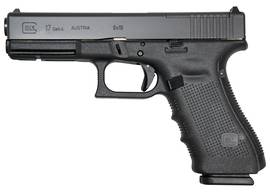 GLOCK 17GN4MOS 9MM 4.49" FIXED SIGHTS, 17 ROUND CAPACITY
NOTE: We do not ship to California.
GLK Glock 17 Gen 4 MOS 9mm 4.49 Inch Barrel Black Finish Fixed Sights 17 Round
MOS (Modular Optics System) platform offers a convenient way to mount reflex sights without costly alterations to a warrantied slide. Includes an Adapter Plate Kit containing 4 adapter plates as well as the tools for the removal and installation for a variety of optics. Optics are not included with the MOS pistols. Multiple back strap design. Gen4 Rough Textured frame. Dual recoil assembly. Reversible magazine catch. Glock accessory rail. Fixed sights.
FACTORY PART #PG1750203MOS.
Explore our entire stock of Glock 9mm handguns and more, including:
Best Handguns Pistols Concealed Carry Handguns
Shop all Glock handguns and magazines available at the Shooters Sports Center in Racine.