W26015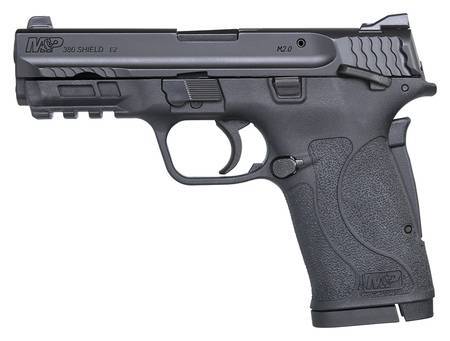 SMITH AND WESSON MP SHIELD EZ 380ACP 3.6" 8RD W/SAFETY
NOTE: We do not ship to California.
S&W M&P Shield EZ .380 ACP 3.6 Inch Barrel Black Finish Polymer Frame White Dot Front Sight Adjustable White Dot Rear Sight Manual Thumb Safety 8 Round
Thin and lightweight can be comfortably carried all day. Picatinny-style equipment rail for lights or lasers. Tactile loaded chamber indicator (TLCI) - can see and feel if there is a round in the chamber. Grip texture optimized to size and recoil. Windage adjustable, white dot rear sight (tool included). Grip safety - grip pistol to fire. Crisp, light trigger with tactile and audible trigger reset. With ambidextrous, manual thumb safety. Optimal 18-degree grip angle for natural point of aim. Reversible magazine release. Armornite durable corrosion resistant finish. Includes (2) easy to Load 8-round M&P 380 Shield magazines.
Shooters Sports Center CCW Rating
Stopping Power: 4

There are more powerful handguns but .380ACP fired from a 3.6" barrel is nothing to scoff at

Size: 4

At 6.1" long and 20oz, the M&P Shield is one of the smaller handguns here

Concealability: 4

A single stack design keeps the M&P Shield 1" wide, but its weight and length keep it from earning a 5
Factory Part #11663
Contact Shooters Sports Center for more information on the Smith & Wesson M&P Shield .380ACP