W0206072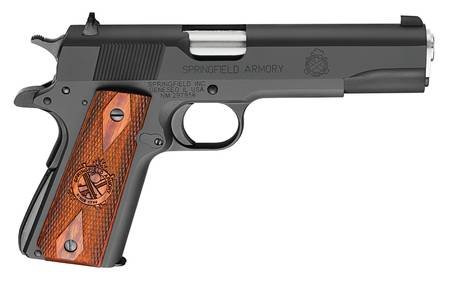 SPRINGFIELD ARMORY 1911 MILSPEC 45ACP 5" PARKERIZED
NOTE: We do not ship to California.
SAI Model 1911 Mil-Spec .45 ACP 5 Inch Stainless Steel Barrel Combat 3-Dot Sights Carbon Steel Frame/Slide Parkerized Finish Cocobolo Grips 7 Round
Features a forged carbon steel frame and slide with parkerized finish. Five inch stainless steel match grade barrel. Fixed Combat, 3-dot sights. GI style recoil system. Cross Cannon Double Diamond Cocobolo and Black Composite grips included. Single sided, non-extended thumb safety. Short, military combat trigger. Lowered and flared ejection port. Slanted rear slide serrations. Two blued steel magazines.
NOT ELIGIBLE FOR CALIFORNIA PURCHASE!