W27030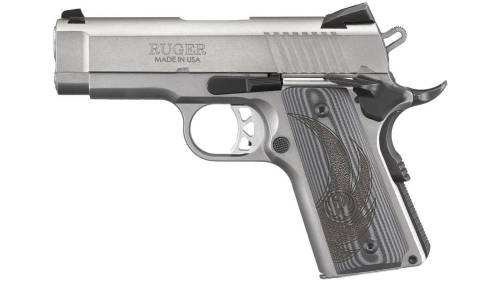 RUGER SR1911 OFFICERS' MODEL, 45ACP, 3.6" PISTOL
NOTE: We do not ship to California.
HOT FIREARM JUST INTRODUCED-MORE ON THE WAY!! RESERVE YOURS NOW!!-HARD TO GET!!
The Ruger SR1911 Officers' Model features a 3.6" Stainless barrel, Stainless frame and slide with Custom Rear Serrations. The Full Length Guide Rod, and Bushingless Stainless Steel bull barrel as well as the Polished Titanium Feed Ramp provide a fantastic platform for accuracy and comfort throughout the shot cycle. The Ruger SR1911 Officers' Model also utilizes Drift-Adjustable Novak 3-Dot Sights, Deluxe Checkered Hogue G10 Grip Panels and a Rounded Mainspring Housing.
This model comes with two Stainless magazines and sports a light, crisp trigger pull, skeletonized hammer and aluminum trigger with its' adjustable over-travel stop. This model also accepts many industry-standard aftermarket 1911 parts and accessories.
FACTORY PART #6762.
VERIFY WITH YOUR LOCAL ORDINANCES AND STATE LAWS THAT YOU MAY LEGALLY POSSESS THIS FIREARM BEFORE MAKING A PURCHASE!!