082442188744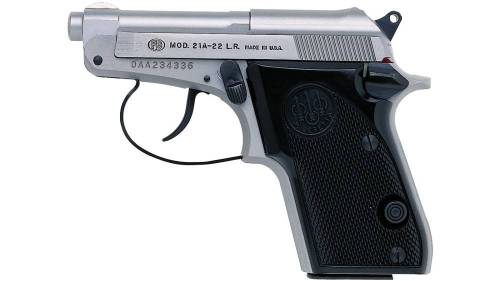 Availability
In Store:
Call for Availability
BERETTA BOBCAT 22LR, W/2.4" TIP-UP BARREL, STAINLESS
NOTE: We do not ship to California.
Very Limited Supply!!!
BERETTA 21 A BOBCAT INOX - .22 LR
•DA/SA
•Pocket conceal carry pistol
•2-position frame mounted safety
•Snag-free design
•Fixed low profile sights
•Tip-up barrel design makes it easy to visually check whether the chamber is loaded & it allows for effortless loading & unloading without racking slide
•Tip-up barrel release latch on side of the pistol
•Single stack mag.
•Stainless steel ("inox") finish makes it highly resistant to sweat, rain & powder residues
•Stainless steel slide & barrel
•Alloy frame is grey anodized to match color & finish of stainless components
•Trigger, hammer, trigger guard, safety & mag. are black finished
•Contoured tang / ergonomic design
•Recessed magazine release button
•Barrel length: 2.4"
•Capacity: 7
•OAL: 4.92"
•Ht.: 3.7"
•Width: 1.1"
•Wt.: 11.5 oz. (unloaded)
FACTORY PART #J212500.