798681607891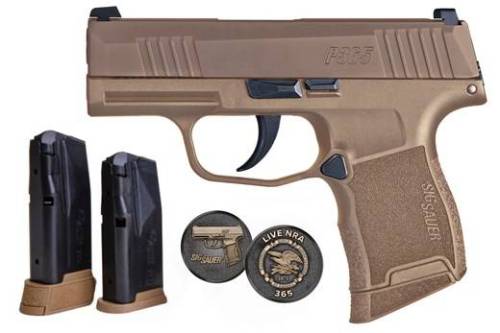 SIG P365 NRA 9MM 3.1" w/Xray3 Day/NightSites & 3 MAGS.
NOTE: We do not ship to California.
HARD TO GET ITEM-GET'EM WHILE THEY'RE HOT!!

SIG P365 NRA Edition comes in Coyote and is dressed up with a serial number beginning with "NRA". Additionally, it comes with an NRA Coin, 2 10rd & 1 12rd mags.

Micro compact, everyday carry size with full-size capacity. Striker-fired with standard clean crisp trigger pull. Chambered in 9mm and rated for +P ammunition. Features SigLite night sights, a ten-round flush fit magazine and a 10-round extended magazine. Stainless steel frame; stainless steel slide with black Nitron finish. Textured polymer grip. Overall width: 1.0 inch. Height: 4.3 inches. Weight: 17.8 ounces.
MAY NOT BE LEGAL IN ALL STATES - CHECK YOUR STATE LAWS BEFORE PURCHASING.
FACTORY PART #365-9-COYXR3-NRA19.