W21767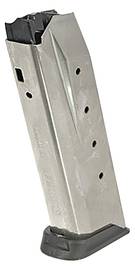 RUG AMERICAN 45 45ACP 10RD MAG
NOTE: We do not ship to California.
This is a packaged magazine from Ruger w/Ruger markings. Capacity is 10rds. THESE MAGS MAY BE RESTRICTED IN YOUR STATE - BE AWARE OF THE LAWS AND HOW THEY LIMIT MAG CAPACITY-WE WILL NOT KNOWINGLY SHIP TO A STATE WHERE THIS MAG IS PROHIBITED.
Shop from the comprehensive list of Ruger products available at The Shooters Sports Center in Racine.