W0206220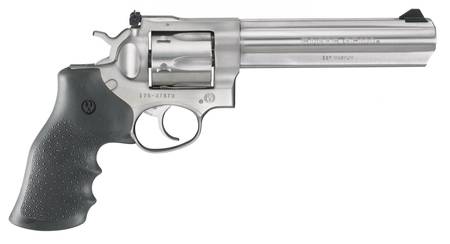 RUGER GP100 357MAGNUM 6" SIX-SHOT REVOLVER, STAINLESS
NOTE: We do not ship to California.
RUG Model GP-100 .357 Magnum 6 Inch Barrel Satin Stainless Finish Ramp Front Sight Adjustable Rear Sight 6 Round
Recoil-reducing, cushioned, rubberized black Hogue Monogrip. Transfer bar operating mechanism with triple locking cylinder. Grip frame design easily accommodates custom grips. Easy takedown. Includes hard plastic case.