W25708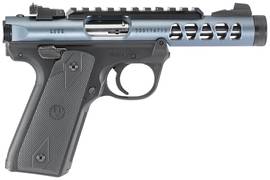 RUGER 22/45 LITE TB DIAMOND GRAY 22LR PISTOL
NOTE: We do not ship to California.
NEW FOR 2018; ORDER YOURS TODAY!!
RUG 22/45 Lite Rimfire Pistol .22 Long Rifle 4.4 Inch Threaded Barrel Diamond Gray Anodized Slide Finish Adjustable Rear Sight Checkered Grip 10 Round
Anodize finish and replaceable black molded rubber, checkered 1911-style grip panels also offers a new, stylish upper and a lighter weight. Fixed front sight, adjustable rear sight. Zytel Polymer grip frame. 1:16 right hand twist. Factory installed picatinny rail. Ergonomic bolt stop. Contoured ejection port. Ambidextrous manual safety. Push button magazine release. Simple takedown for quick and easy field-stripping and cleaning. Includes two magazines.