W20838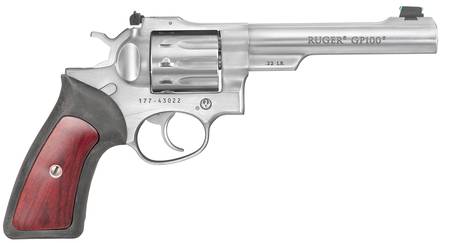 RUGER GP100 22LR 5.5" TEN-SHOT REVOLVER, STAINLESS
NOTE: We do not ship to California.
RUG Model GP-100 Rimfire .22 Long Rifle 5.5 Inch Barrel Satin Stainless Finish Fiber Optic Front Sight 10 Round
Double action revolver. Transfer bar operating mechanism with triple locking cylinder. Cushioned rubber grip with hardwood insert. Takedown of integrated subassemblies requires no special tools and allows for easy maintenance and assembly. Stainless steel construction with satin finish. Fiber optic front sight; adjustable rear sight. 1:16 inch right hand twist rate. Six grooves. Ten round cylinder capacity. Includes hard plastic case.
FACTORY PART #1757.