W23750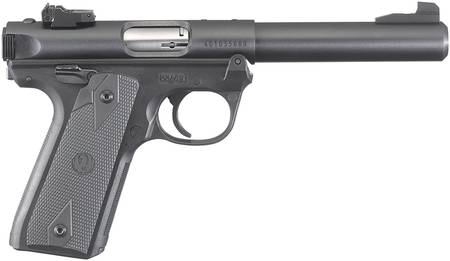 RUGER MKIV 22/45 22LR 5.5" BLUE BULL BARREL W/ADJUSTABLE SIGHTS
NOTE: We do not ship to California.
Ruger Mark IV 22/45 With 1911-Style Grip Angle .22 Long Rifle 5.5 Inch Bull Barrel Adjustable Target Sights Replaceable Plastic Grips Ambidextrous Manual Safety 10 Round
Features the 22/45 polymer grip frame that matches the grip angle of the popular 1911-style pistol. Plastic checkered grip panels can be replaced. Simple one-button takedown for quick and easy field-stripping and proper chamber to muzzle cleaning. Recessed button in the back of the frame allows the upper receiver to tilt up and off of the grip frame without the use of tools. Bull barrel style. Ergonomic bolt stop. Internal cylindrical bolt construction ensures permanent sight to barrel alignment and higher accuracy. Contoured ejection port and easy to grasp bolt ears allow for durable and reliable operation. Fully adjustable target sights. 1:16 right hand twist. Ambidextrous manual safety. Conveniently located push button magazine release on the left side of the frame. Magazine disconnect prevents discharge when the magazine has been removed. Includes two 10 round magazines.
FACTORY PART #40107