W26578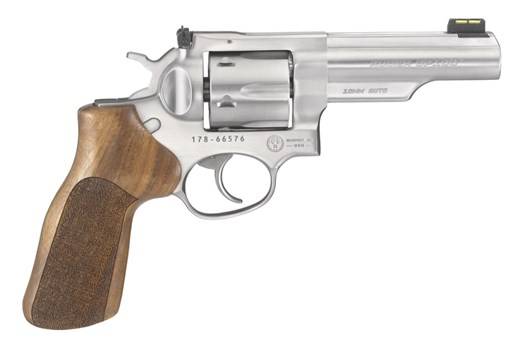 RUGER GP100 10MM MATCH CHAMPION 4.2" REVOLVER 6 ROUNDS
NOTE: We do not ship to California.
Ruger GP100 Match Champion 10mm 4.2 Inch Half-Lug Barrel Satin Stainless Steel Fiber Optic Front Sight/Adjustable Rear Sight Hogue Stippled Hardwood Grip Includes 3 Moon Clips 6 Round
Features a contoured cylinder, an adjustable rear sight and fiber optic front sight, Hogue hardwood grip with stippled sides and a slab-sided, half-lug target crowned. Stainless steel frame and barrel with satin finish. Patented grip frame design easily accommodates the use of a wide variety of custom grips. Ruger transfer bar mechanism provides an unparalleled measure of security against accidental discharge. Triple-locking cylinder is locked into the frame at the front, rear and bottom for more positive alignment and dependable operation. Easy takedown of integrated sub-assemblies requires no special tools. Includes hard plastic case.
FACTORY PART #1775.