W26562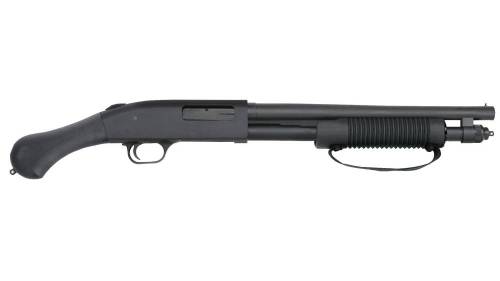 MOSSBERG 590 SHOCKWAVE 410G 14" SHOTGUN
NOTE: We do not ship to California.
IN STOCK-ALWAYS IN DEMAND!!
Model 590 Shockwave 410 Gauge 3 Inch Chamber 14 Inch Heavy Walled Barrel Shockwave Raptor Pistol Grip Front Bead Sight Matte Blue Finish 6 Round
FACTORY PART #50649.
Comprehensive Mossberg Shockwave Review
Dual extractors, positive steel-to-steel lockup, twin action bars and an anti-jam elevator ensure smooth operation. Heavy-walled barrel. Cylinder bore choke. Convenient clean-out tube magazine cap. Front bead sight. Strapped forend to keep shooter s lead hand clear of the muzzle. Ambidextrous top-mounted safety. Shockwave Raptor bird s head-style pistol grip is uniquely shaped to provide a firm grip and to minimize felt recoil constructed of durable polymer. Matte blue finish. 6 Round capacity.
NOTE: THIS FIREARM MAY NOT BE COMPLIANT IN YOUR STATE. PLEASE REVIEW YOUR STATE LAWS PRIOR TO PURCHASING.