W26529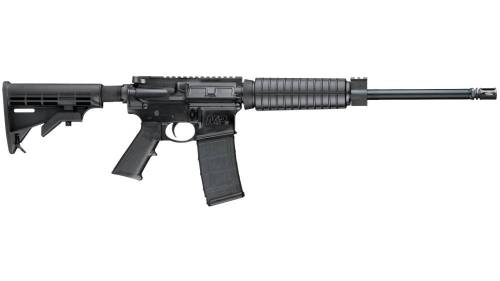 SMITH & WESSON MP15 SPORT II 556NATO/223REM W/16.1" BARREL
NOTE: We do not ship to California.
The Smith and Wesson MP15 Sport II 556NATO/223REM Rifle has a 16.1" barrel. It also features the full length picatinny rail on top permitting the addition of any choice of optics from a traditional scope, to a red dot, or Magpul-type flip up sights.
THIS FIREARM MAY NOT BE LEGAL IN YOUR STATE. PRIOR TO PURCHASE, CHECK WITH YOUR LOCAL GUNSHOP IN YOUR STATE TO VERIFY!
Buy Your Smith & Wesson MP15 Assault Rifle While You Can
Get it… before it's gone.
With recent events in the news, many law-abiding gun owners are concerned about the security of their rights. The Shooters Sports Center has a variety of legal assault rifles available in different calibers.
Defend yourself while you still can.
Buy assault rifles available in-store and online at The Shooters Sports Center.
Comprehensive S&W M&P15 Sport II Rifle Review
Shop all Smith & Wesson firearms for sale at The Shooters Sports Center in Racine.
Order Out of Stock Rifles