098289001306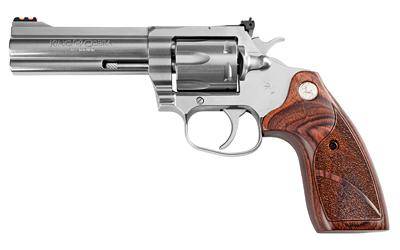 COLT KING COBRA TARGET 357MAGNUM, 4.25", HOLDS 6 ROUNDS
NOTE: We do not ship to California.
RESERVE YOURS NOW!!!
COLT®
KING COBRA TARGET
•Stainless steel finish W/4.25" barrel.
•Fiber Optic front sight
•Hogue Wood Grips with finger grooves
COBRA® SERIES
SHARED FEATURES
•Small frame, +P Rated 6-shot Double-Action revolver with enhanced grip & trigger ergonomics
•LL2 (Linear Leaf) mainspring design ensures consistently smooth trigger pull
•Smooth, straightened trigger
•Glove-friendly, elongated & widened trigger guard
•Grip moved rearward to help manage recoil
•Interchangeable front sight held by Allen screw
•Frame trench rear sight
•Full-length, snag-free shrouded ejector rod
•Transfer bar safety
FACTORY PART #KCOBRA-SB4TS.