022188868272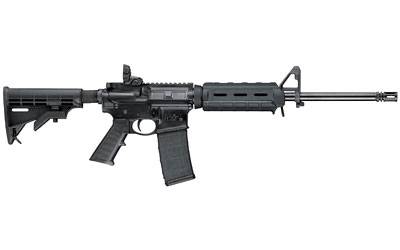 SMITH & WESSON MP15 SPORT II 556, MLOK HANDGUARD, 30RD MAG
NOTE: We do not ship to California.
HARD TO GET - MORE ON THE WAY!!
May or may not be in stock at time of order. Check with store for availability because they've been hard to get, and are going fast!!
Smith & Wesson, M&P 15, Sport II, Semi-automatic, AR, 556NATO, 16" Barrel, Black Finish, Black Collapsible Stock, 30Rd PMag, Flattop, Magpul Flip Up Rear, Magpul MOE M-Lok Carbine Length Handguard.
Get it… before it's gone.
With recent events in the news, many law-abiding gun owners are concerned about the security of their rights. The Shooters Sports Center has a variety of legal assault rifles available in different calibers.
Defend yourself while you still can.
FACTORY PART #10305.
Buy assault rifles available in-store and online at The Shooters Sports Center.
Comprehensive S&W M&P15 Sport II Rifle Review
Shop all Smith & Wesson firearms for sale at The Shooters Sports Center in Racine.
Order Out of Stock Rifles