W26527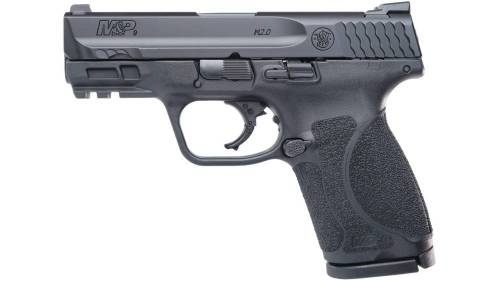 SMITH AND WESSON MP9 2.0 COMPACT 3.6" PISTOL, NO THUMB SAFETY
NOTE: We do not ship to California.
Smith and Wesson MP9 2.0 Compact 3.6", features 9mm w/a 3.6" barrel, No Thumb Safety, 4 Backstrap Options, Stainless Steel Blk Armonite finish and a fine-tuned crisp trigger. It features White 3-Dot sights, a polymer frame, Picatinny Rail and an aggressive Grip texture.
M&P® M2.0™ STANDARD FEATURES
•Striker fire action
•Fine-tuned crisp trigger with lighter pull, & tactile/audible trigger reset
•Polymer frame with integral Picatinny rail, & extended stainless steel chassis
•Aggressive grip texture
•Four interchangeable palmswell grip inserts for optimal hand fit & trigger reach (S/M/ML/L)
•Optimal 18º grip angle
•Stainless steel slide & barrel
•Armonite® durable corrosion-resistant slide finish
•Low barrel bore axis
•Dovetail-cut sight system
FACTORY PART #11688.