022188879179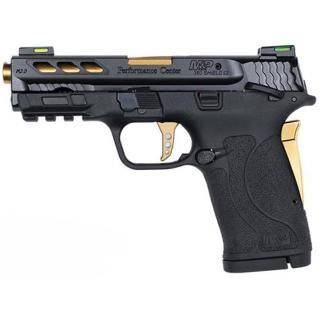 SMITH AND WESSON MP SHIELD 380EZ PERFORMANCE CENTER GOLD PISTOL
NOTE: We do not ship to California.
The MP Shield 380EZ PC in Gold is an easy to conceal pistol that offers professional grade features with simple operation and reliable performance day or night. The Performance Center SHIELD offers discerning shooters premium features including a factory ported barrel and slide. One million Shield owners can't be wrong.
Features
• Ported barrel to reduce muzzle flip
• Lightening cuts in slide for reduced weight
• PC flat face, gold colored anodized aluminum trigger
• PC enhanced gold colored anodized aluminum grip safety
• PC ported, Titanium coated, gold finish barrel
• Easy to rack slide
• Performance Center action, crisp, lightweight trigger with tactile and audible trigger reset
• HI-VIZ® Litewave H3™ Tritium/Litepipe Sights
• Tactile loaded chamber indicator (TLCI) - see and feel if there is a round in the chamber
• Picatinny-style rail
• Two easy-to-load, 8-round magazines
INCLUDES - Performance Center® Branded Cleaning Kit
• Collapsible Cleaning Rod with Rotating T-Handle
• 10 Cotton Cleaning Patches
• Nylon Cleaning Brush
• Bronze Bore Brushes and Nylon Jags (22 cal, 9mm/357/38 cal, 40/10mm cal, 45 cal)
• Nylon Slotted Tips
Model: Performance Center® M&P®380 SHIELD™ EZ® M2.0™ Gold Ported Barrel
Caliber: 380 Auto
Capacity: 8+1
Barrel Length: 3.8" / 9.7 cm
Overall Length: 6.9"
Front Sight: HI-VIZ® Litewave H3™ Tritium/Litepipe Sights
Rear Sight: HI-VIZ® Litewave H3™ Tritium/Litepipe Sights
Action: Internal Hammer Fired
Weight: 18.5 oz / 524.5g
Barrel Material: Stainless Steel
Slide Material: Stainless Steel
Frame Material: Polymer
Slide Finish: Armornite®
Frame Finish: Matte Black